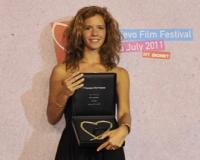 After proudly naming her "Best Actress" last year, for the part of Veli in Loverboy, Sarajevo is welcoming Ada Condeescu once again, only now to be part of a Jury.
"Balkan Spirit" competition, organized by the ARTE television in collaboration with Hermann Vaske, is inviting young, creative people to make a video of their response to the question "What does Balkan Spirit mean to you?". The best video will become part of the "Balkan Spirit" film by Hermann Vaske, be premiered on the ARTE television and win a money prize.
Alongside Ada, the jury is made up by plastic artists Zelimir Baric and Marina Abramovic, director Jasmila Zbanic and philosopher Slavoj Zizek.
If you want to upload your one-minute videos, go to http://balkanspirit.creative.arte.tv/en and show your balkan spirit!