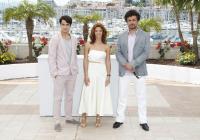 Loverboy had its international premiere in Cannes, in the Un Certain Regard section, on May 18th. 
Director Catalin Mitulescu, main cast Ada Condeescu and George Pistereanu, screenwriter Bianca Oana, film producers Daniel Mitulescu and Marcian Lazar, executive producer Florentina Onea and casting director Emil Slotea  all got up on the festival's stage to introduce the film.
The projection took place in Debussy Theatre, in a screening room filled with more than 1000 spectators. 
The premiere was followed by a party dedicated to the film, organised by Strada Film together with sales Celluloid Films, co-producers Chimney Pot and Film I Vast and Romanian Film Promotion.
After three days of interviews for the international press, Loverboy's crew and cast came back home.