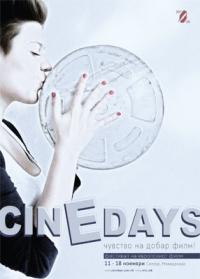 If I want to whistle, I whistle, was rewarded with Silver star award for director Florin Serban, at this year's Cinedays Festival of European Film. In addition, Mr. George Pistereanu was rewarded with special plaque for best male leading role. 
The jury was consisted of Mr. Sanjin Pejkovic, film critic and university lecturer, Mr. Vlatko Galevski, film critic and Mr. Nicolas Gaster, film director.
The explanation on which they have based their decision is the following:
"This film illustrates the complex relation between one individual and the collectivity in a repressed system; the fact that every decision made in life can have consequences. This film does not answer, it poses the existential answers for which every one of us sometimes asks about. How can we live and not be able to hurt the people around us?" 
The award was ceremonially given to the closing day of the festival to His Excelency, Dr. Adrian-Stefan CONSTANTINESCU, Romania's ambassador in Macedonia.
ABOUT THE FESTIVAL
On the initiative of the famous Spanish film director, Pedro Almodóvar, and Vivien Reading, a member of the European Associations, whose main mission was education, culture and audio-visual media, Europe for the first time, in the period between Nov, 15 and Nov, 24, 2002 was celebrating its film tradition through the Manifestation CinEd@ys, Europe 2002.
This prestigious Film Festival is part of the Cinema Frosina, which functions on the premises of the Youth Cultural Center. The first edition of the CinEd@ys in 2002 was received by a great interest from the film audience in Skopje as well as Macedonia. The Youth Cultural Center by the participation in this manifestation with specially organized program has become a member of the European Commission's Head Office for Education and Culture. In 2004 the Youth Cultural Center's - Cinema Frosina became a member of the Association of the European Cinemas – EURIMAGES.
During its history, CinEd@ys, has hosted the most exciting pieces from the contemporary European Cinematography, and numerous eminent cinematographic names from Europe.
The International Film Festival CinEd@ys is a film manifestation, on which the European cultural values and traditions get promoted, with a main accent on the European film heritage, the evolution and the nursing of the cinematographic culture in general, and the film fans get the rare possibility to be introduced to the fresh quality European and World's film achievements, as well as to some of the authors.