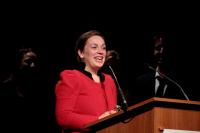 The short film written and directed by Anca Miruna Lazarescu has won 1st Prize for Best European Short at the XIII-th edition of the European Short Film Festival Cambrils- Reus. SILENT RIVER had its international debut in February at the 61st edition of Berlinale.
Anca Miruna Lazarescu was at the ceremony to receive her award.
Our german co-producer, David Lindner, said: "After only two festival participations so far, we are glad to win such a prestigious trophy."


© 2023 Strada Film
Tel +4021 411 80 99 | email contact@stradafilm.ro

web design