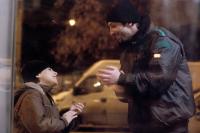 The short feature Music in the blood, starring Lele, the eleven year old boy – rising manele star, is now touring the festivals.

The film received two other important awards this week, Special Jury Award at the Cottbus International Short Film Festival and Grand Prize at the Seoul International Film Festival.

Along with Lele, Andi Vasluianu and Dorotheea Petre are starring in Music in the blood, and also Lele's music producer, Dan Bursuc. The short film directed by Alexandru Mavrodineanu has also been selected in the International competition of the Clermont Ferrand Short Film Festival, one of the most important competition, also known as the Cannes of shorts. In the film's record are also the BeTV Award and the Special Jury Mention for Score at the Bruxelles International Film Festival; Best Romanian Film at the Next International Short Film Festival (Bucharest, Romania) and Best score at La boca de Lobo International Short Film Festival (Madrid, Spain).
The special performances of Lele and Dan Bursuc are linked to the musical subject of the film. Part of the shooting took place in Bursuc's house.
At night, Petre works as a guard in a bus garage at the outskirts of Bucharest, and during the day he takes care of his son Robert. He thinks his son has talent and also that he has the music in his blood. He manages to get an audition with a famous manele producer (Dan Bursuc), who has successfully launched the careers of many children. At the audition, father and son are close to touching their dream. Things don't go as expected, but sometimes, happiness comes from things closer to us. On his way home, Petre discovers that his son truly has music in the blood.
This film is produced by Strada Film with the support of the National Centre of Cinematography, in coproduction with Premium Films (France) with the participation of the programme Decade of Roma Inclusion 2005-2012, an initiative of Open Society Institute, TVR, France 3, Region Provence – Alpes – Cote d'Azur and Millenium Bank.