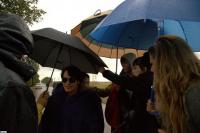 George Pistereanu was nominated by the European Film Academy for the Best European Actor award, for his part in "If I want to whistle, I whistle". George is the second Romanian actor nominated for the European Film Academy Awards (after Dorel Visan, in 1988, for Mircea Daneliuc's film, Iacob), awards that are also known as the European Oscars.
George will compete with four other actors, among which Ewan McGregor, nominated for his part in Ghost Writer, directed by Roman Polanski.
Along the years, this award was won by actors like Roberto Benigni, Javier Bardem and Daniel Auteuil.
The anouncement of the winners will take place during the awards ceremony, on the 4th December, in Tallin and George will attend the ceremony.
George Pistereanu is currently studying acting in Bucharest and has just finished the first part of shooting for Loverboy, director Catalin Mitulescu's new film, where George plays a 20 year old youngster who seduces girls, makes them fall inlove with him and then sells them.
With his talent, George gained an important public with If I want to whistle, i whistle, and in "Loverboy" he has a completely different approach. We are delighted to work with such actors. For Strada Film, this continuity of actors in main parts is an important aspect, says director Catalin Mitulescu.