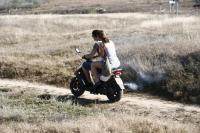 The first and most consistant part of the shooting for LOVERBOY came to an end. After 31 days spent in Constanta and its surroundings, the entire team moved to Bucharest for 2 more days of shooting. 
The film starrs George Pistereanu and Ada Condeescu and is director Catalin Mitulescu's second feature, after The way I spent the end of the world (2005).
Also acting are Clara Voda, Bogdan Dumitrache, Remus Margineanu, Ion Besoiu and Coca Bloos and many unprofessional actors. Young actors Adina Galupa and Andrei Runcanu also have important parts.
Shooting is set to come to an end after two more days in the surroundings of Constanta, during this winter.
Foto: Silviu GHETIE