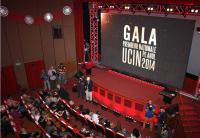 The Romanian Filmmakers Union organized on May 6th 2015, at Studio Theatre, The UCIN Awards Gala, where the film professionals were awarded for the films produced in 2014.
The Jury was consisted of Marina Constantinescu- theater critic, Margareta Paslaru- actress, Ana Ularu-actress, , Peter Lucaci - Chairman of the Plastic Artists Union, Laurentiu Damian - director, UCIN president, Titus Vajeu - critic and film historian, Alexander Sterian - director of photography, president of the "Romanian Society of Cinematographers', designer Mihai Ionescu and chaired by Cristian Tudor Popescu, movie critic and columnist for "Gandul".
At this event, Clara Voda won the Award for Female Performance, for her role in "Nightfall in India". Victoria Cocias ("O poveste de dragoste, Lindenfeld") and Olimpia Melinte ("Planşa") were also nominated for this award.
http://ucin.ro/premiileucin2014.html