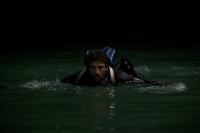 SILENT RIVER participated in Tampere Film Festival, where it won a special award: a secured nomination for the European Film Academy Short Film Awards.
This is Silent River's second award after Cambrils-Reus Film Festival in Spain.
Silent River is a German - Romanian co-production, directed by Anca Miruna Lazarescu. The film premiered in this year's Berlinale where it was nominated in the Short Film competition.
Foto Credit: David Klein


© 2021 Strada Film
Tel +4021 411 80 99 | email contact@stradafilm.ro

web design