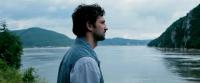 Short film SILENT RIVER (original title APELE TAC), directed by Anca Miruna Lazarescu, was selected in the short film competition at Berlin International Film Festival. The film is a German-Romanian co-production, having Filmallee Germany and Strada Film Romania as co-producers.
Toma Cuzin, Andi Vasluianu and Patricia Moga represent the main cast.
The film received support from the Fronteer Police and local City Hall Eselnita, Orsova area. Re-creating the communist era (with help from the Romanian set designer Dragos Epure) including the re-enactment of a "ruga" - a celebration of the protective local saint, during each people wear traditional clothing.
Shooting took place near the Danube in Romania and in Worthsee, Germany, having Christian Stangassinger as DOP.
In Romania, 1986, Gregor and Vali plan to escape the regime, by crossing the Danube swimming to the Serbian bank. To assure their success, Gregor has one rule: Vali must leave his wife at home.
Anca Miruna Lazarescu was born in 1979 in Timisoara, Romania and currently lives and works in Munich, where she is preparing her feature film debute.
At the Berlinale premiere, director Anca Miruna Lazarescu, actor Toma Cuzin and set designer Dragos Epure will be persent, together with Executive Producer Florentina Onea (Strada Film) and German producers David Lindner and Daniel Schmidt (Filmallee).
Strada Film is present in the short film competition at Berlinale for the second time, after Bogdan Mustata's A good day for a swim which won the Golden Bear in 2008.