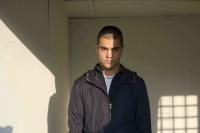 The awards for the 18th edition of the Damascus International Film Festival have been announced Saturday evening, the 13th of November.
George Pistereanu has received the Best Actor award for his interpretation of Silviu, in If I want to whistle, I whistle (dir. Florin Serban). The award was handed to the deputy ambassador of Romania in Syria, Mr. Cristian Tudor, since George could not attend the ceremony being involved in his next project, Loverboy (dir. Catalin Mitulescu).
The award will make its way to Romania at the beginning of December, through the Ministry of Foreign Affairs.